Bring a friend and learn the art of salsa dancing here at The Bronx Museum alongside professional instructors and live music in celebration of the history of salsa in the South Bronx. All ages and skill levels welcomed!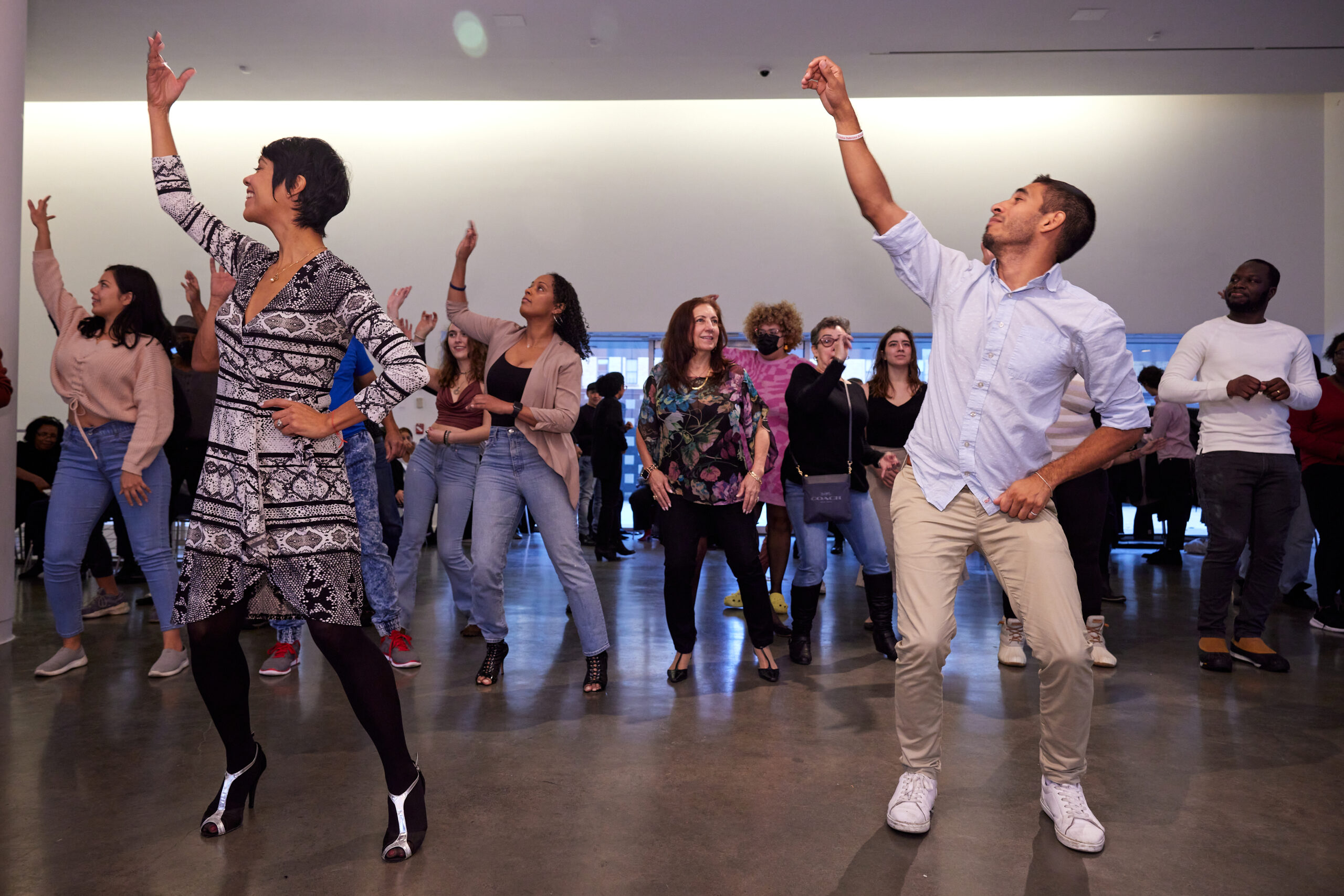 Registration Guidelines
Please note: Due to limited capacity, we ask that you arrive at 6 pm to be considered for entry. RSVP is required at check-in and entry is based on first come, first serve basis. If we've reached capacity in our event space, you may be asked to wait for entry and explore our museum's galleries until space is available. Walk-ins will be considered for entry based on capacity, priority is given to those who already RSVP'd.
SOLD OUT
Tito Puente Jr.

Talia-Castro Pozo
Tito Puente Jr.
The comparison is inevitable. How could it be otherwise? Tito Puente Jr. carries his father with him imprinted on his physical being and locked in his soul. It's in his looks, his joy, and his music. 

Tito, Jr. is on a passionate mission. The younger Puente is determined to nurture the musical legacy left by his father. He refuses to let his father become a distant memory. "He was just too vibrant, too exciting. There was magic in the music my father made. It made people happy all over the world."

He has found captive audiences who echo his passion. Crowds lured to a venue by the father are returning to see the son — and to once again participate in the high voltage celebration that takes place on stage.

 Tito Puente, Jr. has become an audience favorite in casinos, performing arts centers, symphony halls and jazz festivals worldwide, performing more than 300 shows over the past 5 years. 

His 2004 album, "In My Father's Shoes" featured the classic Puente titles and was spun into a BET Jazz television special of the same name.

 He was seen in a tribute to his father's music on NBC's two hour special–"The Apollo at 70: A Hot Night in Harlem." He has also appeared on the ABC soap opera hit "One Life to Live" in performance with his big band.

 Symphony appearances include Dallas, San Antonio, Colorado, South Bend, and upcoming performances with the Palm Desert Symphony and the National Symphony Orchestra conducted by Marvin Hamlisch.

 Tito, Jr.'s new CD release, "Got Mambo?" is a mixture of the old and the new as he takes a musical departure into some powerful new music he can truly call his own. Guest artists Bobby Cruz and Hansel & Raul help make this a coming of age project for Puente, Jr. and the album is receiving heavy praise from Tropical and Latin Jazz critics alike. 

Tito Jr. reveres the magnificent, lasting impact his father had on our musical lives. "People who don't know anything about Latin music know my father and people always, always smile when they say my father's name," he confides. "That is a very special gift I have been given."


Tito, Jr. lives in South Florida and has two children, Miranda and Antonio.
Talia-Castro Pozo
Formerly, "Peruvian Ballet Representative to the World," Talía represented Peru in the most prestigious ballet competitions around the globe. Talía started dancing at the age of three, becoming the youngest Soloist to join the National Ballet of Peru at age 14. After relocating to New York City to study at the prestigious School of American Ballet, she was able to expand her dance abilities by training in other forms of dance including, Contemporary, Modern, Jazz, Ballroom & Latin, among other styles. Talía graduated from the William Esper Studio, studied acting under Bill Esper, voice & movement. She went on to study singing to strengthen her connection to her Peruvian Roots, currently singing Afro-Peruvian Jazz Music and continuing her music studies. She just finished Pre-Production as a recurring co-star playing "Mona" for the upcoming TV mini series "Fleishman is in Trouble" Starring Jessie Eisenberg. She is currently choreographing for the TV series "The Godfather of Harlem" Season 3 and has choreographed for numerous independent films & TV commercials.  She starred in the movie "Isn't Romantic" as principal dancer, "Falling in Rhythm," "Summer of Sam", "Tango Finish" Off Broadway. You will see her dancing in the upcoming new TV series"Three Women" & "The Godfather of Harlem" Season 3. As a Dance Coach she has trained professional dancers in partner dancing including Broadway dancers for choreographer Christopher Gattelli. Talia has managed numerous iconic dance studios in NYC and has taught master classes at BDC, Lincoln Center, Columbia University, NYU to name a few. As Spokesperson and guest artist, she has been featured on NBC's The Today Show with Patrick Swayze, Tiki Barber, Marc Anthony, Pitbull, The New York Times, ABC's Good Morning America, CBS, Univision, Telemundo, and celebrated as "The Woman of Salsa" by Latina Magazine. She is the producer of Latin Mondays at Taj celebrating 16 years, Sunset Salsa with Talia, Bryant Park Dance Party & Midtown Dance. She is also a member of the International Dance Council & Board Director of the Unspoken Smiles Foundation helping children at risk help develop healthy habits for life & Board Member of Ballroom Basix USA providing school children physical, social, emotional and cultural engagement through dance serving more than 20,000 school children in over a hundred NYC schools.
Support The Bronx Museum by becoming a member
Support us