Iran: Women Only focuses on the contemporary women of Iran with a look back at the early
 work of photojournalist Randy H. Goodman started almost four decades ago. The 1979
 occupation of the US Embassy in Tehran brought Goodman to Iran for her first foreign assignment. She returned in 1981, with two colleagues, on an exclusive assignment for CBS-TV News and then, were the only American journalists credentialed to work in that country. Her third Iran assignment was for TIME (1983) when she toured the Iran-Iraq war zone, covered breaking news and photographed Ayatollah Khomeini while wearing a borrowed chador. During that period, Goodman navigated her way across this war-torn country in search of the indefinable images that would help bring understanding to what was the enigma of Iran.
In producing this exhibit, Goodman returned to Iran in 2015 to revisit people and places
 photographed decades earlier and to photograph Iran at yet another pivotal time in US-Iran
 relations – – the signing of the Iran Nuclear Agreement. Her portraits and streets scenes of
 women only from both periods provide a visual comparative between these periods.
 Goodman's B&W photographs from the early 1980s capture the sweeping socio-cultural
 changes symbolized by dramatic shifts in dress and lifestyle, reflecting the conservative values and traditions reemerging in the country. In contrast, her color images of present-day Iran show women more openly testing the boundaries of the Islamic Republic's social norms, seen in the wearing of make-up, the choice of colors in head scarves and their positioning. Even the slightest repositioning of the head scarves further back on the head, leaving more hair exposed, is today, a symbol of women pushing for change.
In 2009, Goodman produced her first exhibit of her Iran work titled IRAN: Images From 
Beneath a Chador: The Hostage Crisis to the Iran-Iraq War 1980-1983. This traveling exhibit
 was widely shown in the US and Europe. Her Iran photographs have been published in
 newspapers and magazines throughout the world including The New York Times, The Boston 
Globe, The Washington Post, TIME and in Egypt, France, Hong Kong, Great Britain, Libya, Italy and Venezuela.
Besides Iran, Goodman has captured images in Cuba (1990), Grenada (1987) and Nicaragua 
 (1982) and was a freelance photographer for United Press International and Gamma-Liaison
 Photo News Agency (currently Getty Images). She is currently writing a memoir of her Iran
 experiences.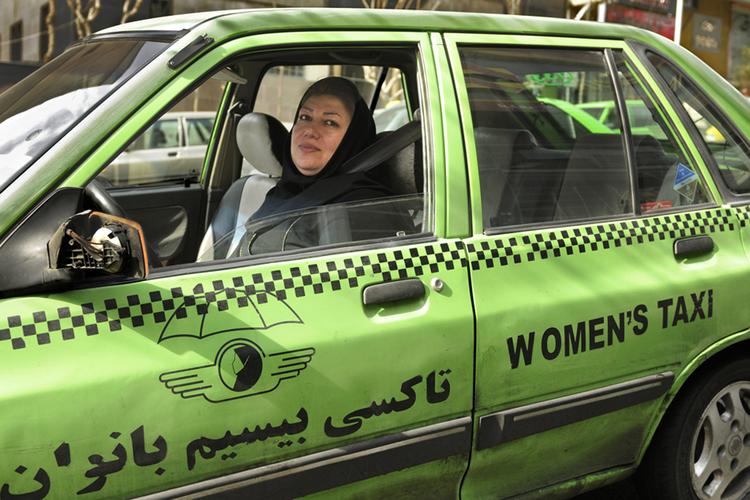 ©Randy H. Goodman, Iran, Subway

©Randy H. Goodman, Iran, Twins

©Randy H. Goodman, Iran, Young Girl

©Randy H. Goodman, Iran, Prayer

©Randy H. Goodman, Iran, Women's Taxi
Support The Bronx Museum by becoming a member
Support us