Manuel Mendive:
Nature, Spirit, and Body
Over the last fifty years, Cuban artist Manuel Mendive has developed a sophisticated and pointed examination of the influence of African oral-based traditions on Cuba through the experimental lens of contemporary art. His multidisciplinary work, in particular performances, has become a vehicle for exploring the intersections between art, religion, philosophy, politics, ethics, and anthropology. At the Bronx Museum, Mendive will present a new body of works focused on his continued visual interpretation of narratives of Yorùbá-Lucumí culture and wisdom literature, extending to the universal ideas and relationships between humans and nature.
Conceived as a cohesive group of paintings and sculptures, the overall installation suggests a passage to the heart of all living things. Steeped in ancient African wisdom and modern philosophical constructs, Mendive's artworks invite the viewer to be immersed in a universal search for identity and interconnectedness.
Born on December 15, 1944 in Havana, Cuba, Mendive studied at the San Alejandro Academy of Plastic Arts in Havana. His works are in the collections of the National Museum of Fine Arts in Havana, the Museum of Modern Art in Paris, and the Ethnographic Museum of Budapest, among others.
John Rowe has spent over two decades documenting people and cultures worldwide, and his work has been published by National Geographic, NBC News, CNN, Al Jazeera, The Guardian, L'Oeil de la Photographie and The Explorers Journal among others.
Featuring photographs by John Rowe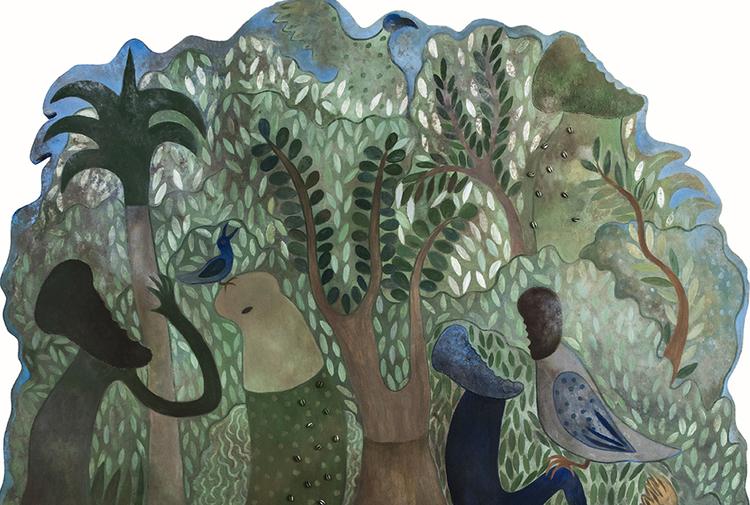 Exhibition Support
Manuel Mendive: Nature, Spirit, and Body is generously supported by Rockefeller Brothers Fund: Culpeper Arts & Culture Program and Director's Circle, the Museum's premier support group.

Performance: Nature, Spirit, and Body, 2017 Photo credit: John Rowe Photo © 2016

Manuel Mendive, Fragmento de un paisaje / Fragment of a Landscape, (detail), 2017.

Manuel Mendive, Fragmento de un paisaje / Fragment of a Landscape, (detail), 2017.
Support The Bronx Museum by becoming a member
Support us