Oded Halahmy—
Exile is Home
Like countless New Yorkers who arrived from distant lands, Oded Halahmy has a rich personal history of exile, migration and travels. Born in the old city of Baghdad in 1938, the artist came from a family of Orthodox Jews with deep roots in ancient Babylonian culture. He refers to his home as the "land of wheat, barley, grapes, figs, pomegranates, olives and dates." Although New York has been his home for over 45 years, memories of Iraq left an indelible imprint on his life and work. Known for his dynamic yet often playful figurative sculptures in wood and bronze, he fills his work with images — albeit abstracted from reality — that evoke the landscape, architecture and rich colors of the Middle East. Palm trees, doves, pomegranates, temples and age-old symbols abound along with deep reds, amber, sky blue and the familiar greenish-blue hues of aged bronze.
Oded Halahmy: Exile is Home includes over 100 works representing Halahmy's work from the mid-1960s to the present and features a selection of Judaica – handmade by the artist for Hanukkah and Sukkah celebrations with close friends. Halahmy currently lives and works in New York and Old Jaffa, Israel. His work has been included in numerous solo and group exhibitions throughout the United States, Europe and the Middle East. His work is in the permanent collections of the Aldrich Museum of Contemporary Art, Ridgefield, CT; Solomon R. Guggenheim Museum, New York, NY; Hirshhorn Museum and Sculpture Garden, Washington, DC; Indianapolis Museum of Fine Art, Indianapolis, IN; Israel Museum, Jerusalem, Israel; Jewish Museum, New York, NY; and New Jersey State Museum, Trenton, NJ, among others.
Oded Halahmy: Exile is Home is organized by guest curator: Margaret Mathews-Berenson, and made possible by the lead sponsorship of an anonymous patron and the additional support of the Bronx Museum's Director's Circle.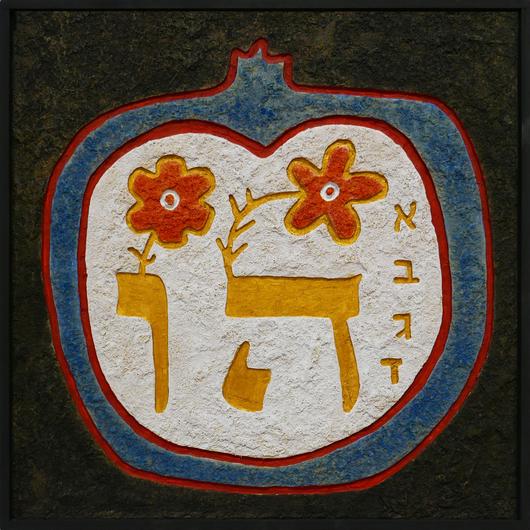 Oded Halahmy, POMEGRANATE FOR PEACE, 2015, Engraved Drawing on Wood: Sawdust, Glue, Paint

Oded Halahmy, POMEGRANATE IS LOVE, 2015, Engraved Drawing on Wood: Sawdust, Glue, Paint

Oded Halahmy, HOMELAND, (Study), 1987, Bronze Cast

Oded Halahmy, POMEGRANATE DRINKS WATER, 1983, Bronze Cast

Oded Halahmy, FORTHRIGHT LOVE, 2015, Wood Mockup - To be Made in Metal
Support The Bronx Museum by becoming a member
Support us