Teen Programs
The Museum's Teen Programs offer paid internship opportunities to New York City high school students to become immersed in art, culture, creative thinking, and community.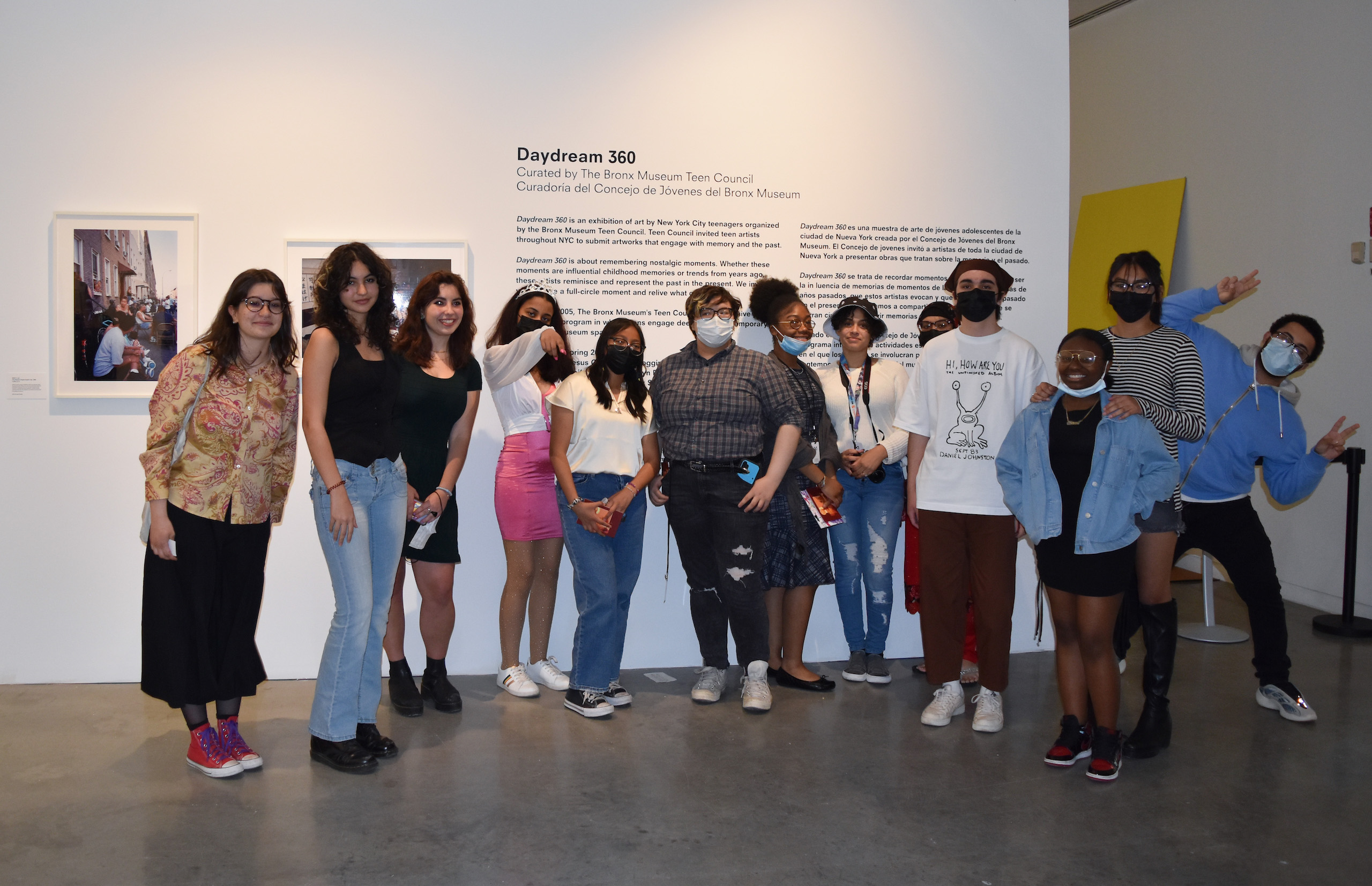 Teen Summer
Teen Summer is a four-week paid internship for high school students (age 14-19) creating a collaborative exploration of art, community, and the role of museums in our current time.  Students also reflect on their personal relationships to arts and culture, which culminates into a media and art exhibition. 
Teen Summer is:
A paid opportunity! (Participants are paid a stipend for each session) 

A program for self-discovery

Creating art and media

Celebrating young voices
Teen Council
WE ARE CURRENTLY ACCEPTING APPLICATIONS FOR FALL 2023 TEEN COUNCIL
Apply HERE.
DEADLINE: Wednesday, October 4, 11:59 PM
Teen Council is a four-month paid internship for New York City high school students (ages 14-19), offered in both the fall and the spring. 
Created in 2005, Teen Council offers opportunities for young people to engage deeply with contemporary art and the museum space. In this intensive after-school program, teens discuss and express ideas and create art relating to issues affecting young people today. Participants also gain experience in collaboration, communication, and curation.  Teens may participate in one or both sessions each year.
Teen Council is a paid opportunity. Projects during each cohort may include:
Meeting and interviewing contemporary artists

Curating in-person and digital art exhibitions

Creating work for and publishing a zine

Collaborating with other teen groups

Exploring

The

Bronx Museum's current exhibitions and developing interpretive materials
Teen Council Tours and Exhibitions
Studio Visit with John Ahearn
The Teen Council makes a visit to the studio of John Ahearn, a sculptor who creates life casts of everyday people in his community.
The Installation of Gordon Matta-Clark's "Garbage Wall"
Documented by our Teen Council, get a behind the scenes look at The Bronx Museum's recreation of Gordon Matta-Clark's 1970 installation "Garbage Wall," for the museum's 2017-18 exhibition Gordon Matta-Clark: Anarchitect.
Teen Council Curates "Dreams and Nightmares"
The Teen Council curates Dreams and Nightmares, an exhibition of teen artwork from around New York that addresses the title theme (2014).
Interview with Sanford Biggers
The Bronx Museum's Teen Council teams up with Sandford Biggers for an interview and discussion about his exhibition Codeswitch.  Bigger's provides an in-depth view about his multimedia approach with pre-1900 quilts as a cultural object in early America, and how he seeks to disrupt their cultural transmission through an examination of their use during the Antebellum period.  
Interview with Alicia Grullon
Teen Summer 2020 participants interview artist Alicia Grullon about her online exhibition March to June: At Home with Essential Workers which explores the disproportionate way black and brown communities were impacted by the Covid-19 pandemic.  
Interview with Henry Chalfant
Teen Council 2019-20 members hold a short interview with urban photographer Henry Chalfant whose work has been vital to the preservation of hip-hop, break-dance, and graffiti culture.
Interview with Jamel Shabazz
Teen Council interviews street photographer Jamel Shabazz about using his camera to preserve the history of black and brown communities and as a tool for social justice (2017).
Interview with AIM alum Firelei Baez
In conversation with Dominican born multimedia artist and AIM alum Firelei Baez and her work focusing on the fragmented nature of culture and identity as shaped through history (2017). 
Interview with Latoya Ruby Frazier
An interview with visual artist Latoya Ruby Frazier whose photography tells the story of racial and economic injustice in America.
Teen Council and Teen Summer Talks
Teen Summer 2019 participants conducted a two-part interview series to mark the 50-year anniversary of two cultural groups that emerged in New York City and continue to have lasting impact. 
Interview with Gonzalo Casals
Part one features an interview with Gonzalo Casals, then Executive Director of the Leslie-Lohman Museum. Leslie-Lohman is the only art museum to exhibit and preserve artwork that speaks about the LGBTQIA experience.
Interview with Hiram Maristany and Miguel Luciano
Part two features interviews with Hiram Maristany and Miguel Luciano. Maristany is co-founder and photographer of the Young Lords in New York. Luciano is the creator of Mapping Resistance: The Young Lords in El Barrio, a public art project featuring Maristany's photographs installed in East Harlem neighborhoods where Young Lord actions took place.
Teen Summer and Teen Council team up  to create a four-part interview series "We Are All Agents of Change" 
Part one, explores what civic engagement looks like in The Bronx and beyond and how youth can get involved! 
Part two, interview with artist, organizer, and educator Shellyne Rodriguez.
Part three, interview with Joseph Cuillier and Shani Peters of The Black School.
Part four, interview with Brooklyn-based performance, video, and installation artist Amy Khoshbin
Support The Bronx Museum by becoming a member
Support us