Virtual Guided Tours
Our guided tours are a great way to engage with contemporary art on your own time and at your own pace. Led by our knowledgeable art educators and Teen Council members, viewers get an intimate look of some of our most thought-provoking current and past exhibits at the Museum.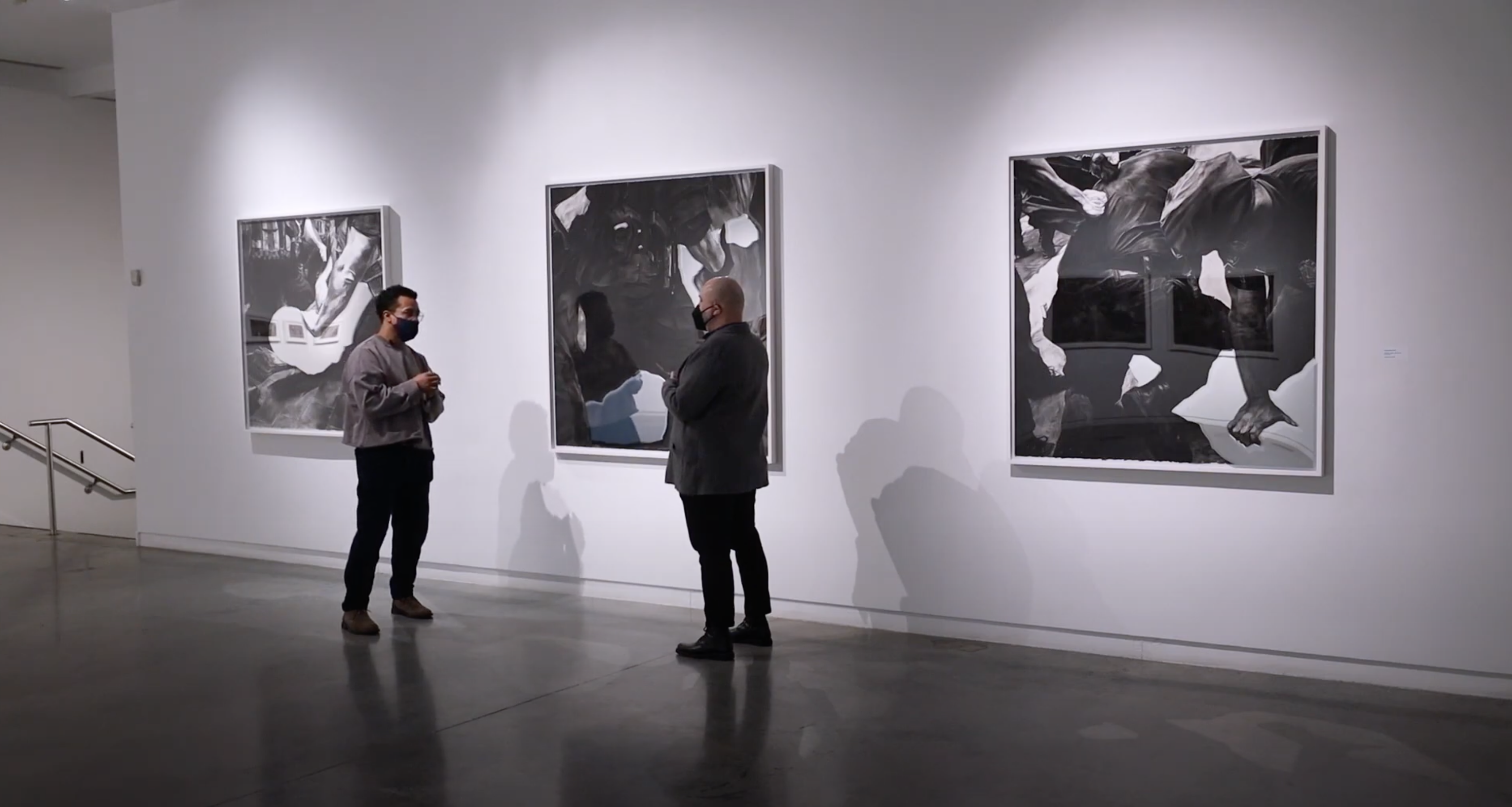 Manuel Mendive: Nature, Spirit, and Body
Explore the acclaimed work of Manuel Mendive in his 2018 exhibition Nature, Spirit, and Body, which explores the influence of African oral-based traditions on Cuba through the experimental lens of contemporary art.  The tour also features an excerpt from a praise poem written and performed by artist Orlando Ferrand.  Exhibition curated by Christine Licata.
Henry Chalfant and Alvin Baltrop
Visit two solo exhibitions at the museum in one guided tour:  Henry Chalfant: Art vs. Transit and The Life and Times of Alvin Baltrop (2019) – photographers who captured culture and urban life through the 1970s and 1980s in their own unique way. Tour by Bronx Museum Educator Aurelio del Muro.
José Parlá: It's Yours
See renowned artist José Parlá's work in It's Yours, his first solo exhibition at the Museum (2020-21), and learn about how his large-scale paintings channel his hip hop roots.
Shaun Leonardo: The Breath of Empty Space
Join Brooklyn-based artist Shaun Leonardo and curator John Chaich as they walk us through the 2021 exhibition Shaun Leonardo: The Breath of Empty Space. Created between 2014 and 2019, Leonardo's work traces high profile stories of lives ended or forever altered by systems of law enforcement from the 1970s to today – offering a critique on how mediated images of systemic violence against black and brown young men in contemporary American history have shaped our fear, empathy, and perception. 
For a virtual 360° version of Shaun Leonardo's exhibition click here
Sanford Biggers: Codeswitch
Take a tour with artist-educator Joiri Minaya through the mesmerizing 2021 solo exhibition Sanford Biggers: Codeswitch which refers to both the artists' quilt series known as the Codex series and to the idea of code-switching itself, or shifting from one language system to another depending on the social context. 
The Codex series includes mixed media paintings and sculptures done directly on or made from pre-1900 antique quilts. This process, like linguistic code-switching, recognizes cultural plurality, as the quilts signal their original creator's intent as well as the new layers of meaning given to them through Biggers' artistic intervention.
Listen to Bigger's exhibition welcome message 
See our Teen Council in action as they interview Sanford Biggers about Codeswitch
Teen Council Guided Tours
The Neighbors, part two, in two parts: Sanctuary: Andrea Bowers and Home: Andrea Aragón
In this video our Teen Council gives a tour of the exhibition The Neighbors, part two, in two parts: Sanctuary: Andrea Bowers and Home: Andrea Aragón.
Dreams and Nightmares
In 2014 Teens Council invited peers from New York City to submit artworks that respond to the theme "Dreams and Nightmares" and curated an exhibition from the submissions they received.
Gordon Matta-Clark: Anarchitect
Our Teen Council documents the museum's recreation of Gordon Matta-Clark's 1970 installation "Garbage Wall," from the exhibition Gordon Matta-Clark: Anarchitect, at the Museum from 2017-18. 
Support The Bronx Museum by becoming a member
Support us