Wardell Milan:
Amerika. God Bless You If It's Good To You
Wardell Milan: Amerika. God Bless You If It's Good To You is the first major solo museum exhibition of Harlem-based artist Wardell Milan.
Curated by Holly Block Social Justice Curator, Jasmine Wahi, the survey is part of a year-long series celebrating the Bronx Museum's 50th anniversary and legacy as an institution dedicated to social justice.
The themes and subject matter in Milan's work oscillate between reflections on current world events and a deeply personal meditation on his own daily life, and touch on such topics as gender performance, the unconscious, and the ideals of beauty. Characteristically diverse in technique, Milan's signature language dissects the notion of the singular and individual body, and through the use of collage, imparts a sense of fragmentation and violence. His recent series, Parisian Landscapes, explores the duality between marginalization and freedom of expression, imagining places where the marginalized body is able to express itself and move about the world freely.
Split into two parts, Amerika. God Bless You If It's Good To You explores the violent undergirding of contemporary American society. The first portion of the exhibition, composed of new works on paper, explores the insidious normalcy of White supremacy in America. At the heart of the exhibition is the question: "What do terrorists do when they're not terrorizing?" This inquiry pushes the artist's assertion that racial violence is interwoven into the fabric of American life, and an indiscriminate presence in public and private realms.
Incorporating camelia flowers in reference to the antebellum White terrorist organization known as The Knights of the White Camelia, Milan establishes allegorical connections to history through the use of flora. Exploration of how natural elements are used to both symbolize and obscure more sinister, violent human constructions is a regular theme of the artist's work, including a series centered on the tulip flower, begun as an investigation of financial speculation and the economic crash of 2008.
By exploring the daily lives of White nationalists, from their morning rituals and social gatherings to their most intimate moments, Milan reveals the banality of hate. As we remain passive observers both within Milan's portrayals and as witnesses to them, it becomes necessary for us to question our own preconceived morality.
The second section of the show is housed in a site-specific structure and explores the idea of a "Safe Space" for communities that have historically been marginalized. This space, constructed in reference to a chapel, sets the stage for a series of collaborative, newly choreographed performances by Zachary Tye Richardson, and utilizes a series of sculptures designed and fabricated by artist and designer Billy Ray Morgan. Titled 5 Indices on a Tortured Body, the series of performances is split into five acts: The Black Male Body, The Female Body, The Trans Body, The Migrant Body, and the Quarantine Body.
For the disenfranchised, religious and socially safe spaces can offer a place of refuge while simultaneously offering an opportunity to be seen and affirmed. Within each performance Richardson creates movements expressing persistence and resilience, while Morgan's sculptures are integral to the choreographed movements and expand upon ideas of mourning, identity, and love. Together, Richardson, Morgan and the dancers adapt each performance from themes within Milan's practice, the complexities of their individual experiences, and through shared ideas of healing from traumatic, lived experiences.
Organized by Jasmine Wahi, Holly Block Social Justice Curator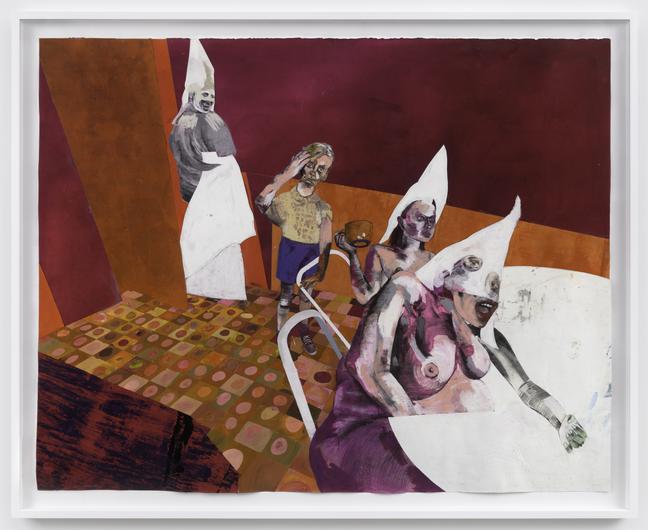 About the Artist
Wardell Milan (b. 1977, Knoxville, TN) has been included in numerous significant solo and group exhibitions including Greater New York, MoMA PS1, New York (2015 and 2005); The Art Institute of Chicago; The Studio Museum in Harlem, New York; Institute of Contemporary Art, Philadelphia; Crystal Bridges Museum of Contemporary Art, Bentonville, AK; Museum of the African Diaspora, San Francisco; Queens Museum of Art, New York; Andy Warhol Museum, Pittsburgh; Museum of Contemporary Photography, Chicago; Camden Arts Center, London; National Gallery of Art, Warsaw, Poland; and White Columns, New York, among others.
Works by the artist may be found in the collections of The Art Institute of Chicago; Museum of Contemporary Photography, Chicago; Denver Art Museum; Brooklyn Museum, New York; Hessel Museum of Art, Bard College, New York; The Museum of Modern Art, New York; The Morgan Library & Museum, New York; The Studio Museum in Harlem, New York; Whitney Museum of American Art, New York; UBS Art Collection; Daniel & Florence Guerlain Contemporary Art Foundation, Paris; Hall Art Foundation; and San Francisco Museum of Modern Art. Milan lives and works in New York.
Curatorial Credit and Exhibition Support
Social Justice Curator. The exhibition is part of Our Stories, Our Voices––a year-long series of exhibitions and public programs organized around the idea that visibility is a tenet of social justice.
Support for Wardell Milan: Amerika. God Bless You If It's Good To You is made possible by the Rockefeller Brothers Fund: Culpeper Arts & Culture Program, David Nolan Gallery, Square Design Inc., LiveLoad, and SRI Fine Art Services, with Mertz Gilmore Foundation in support of performance and new choreography.

50th Anniversary
Wardell Milan: Amerika. God Bless You If It's Good To You is one of the exhibitions that celebrates The 50th Anniversary of The Bronx Museum of the Arts. To mark this milestone we are celebrating the cultural wealth of our communities and bringing to light the stories, voices, and visions of artists seeking a more just and equitable world. 
Thank you to our generous supporters without whom our 50th Anniversary programming would not be possible.
Anonymous; Agnes Gund; Bloomberg Philanthropies; Donald A. Pels Charitable Trust; Sciame Construction, LLC; May & Samuel Rudin Family Foundation, Inc.; and, the Bronx Museum's Board of Trustees. List in formation.

Support The Bronx Museum by becoming a member
Support us