Sharing Stories
Sharing Stories is a compilation of conversations, interviews, and poetic narratives offered by our staff, artists, and teen program members about the Museum's collection and exhibitions.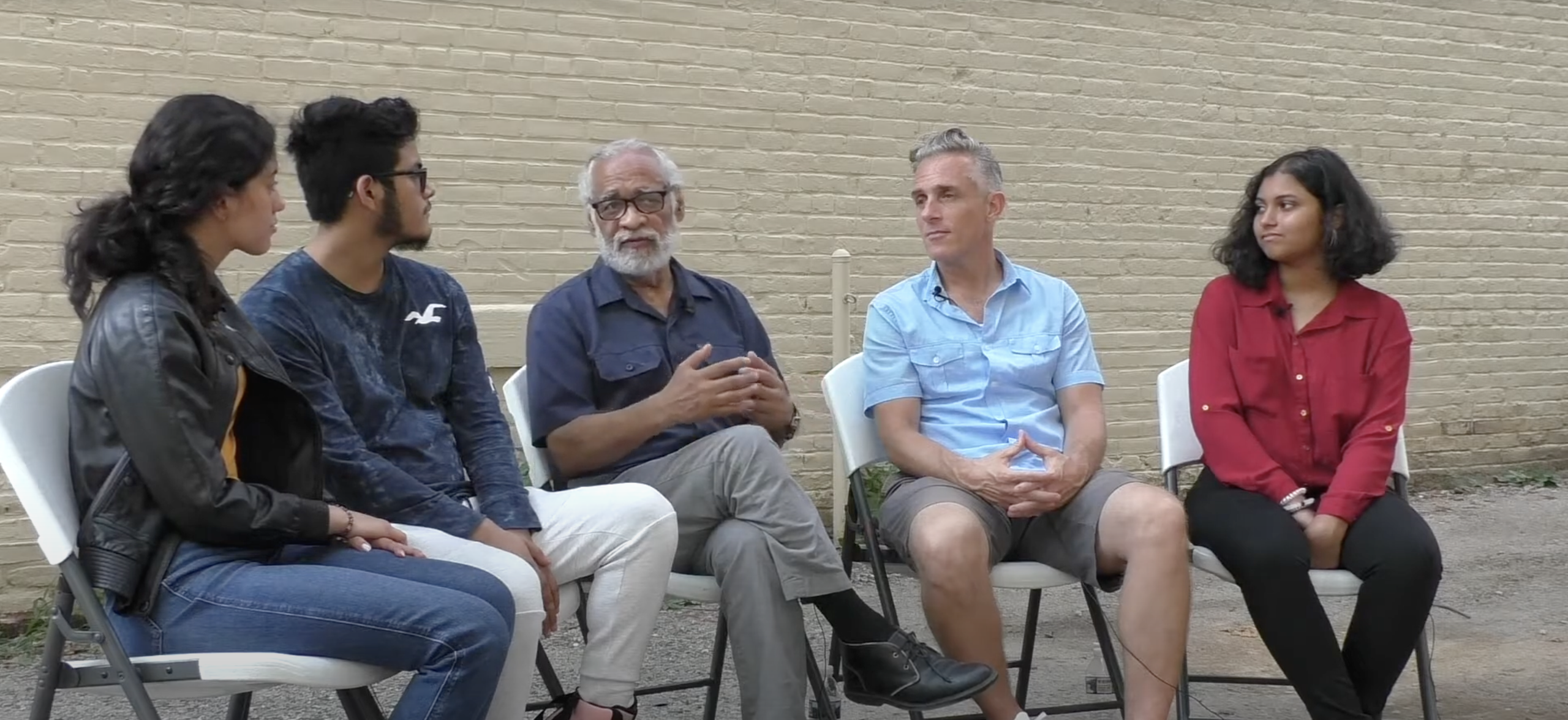 Jasmine Wahi on Jamel Shabazz's "A Time of Innocence"
Jasmine Wahi, Holly Block Social Justice Curator, discusses one of her favorite works in the Museum's collection A Time of Innocence by street photographer Jamel Shabazz. 
Want to learn more about Jamel Shabazz?  Watch Teen Council's interview with Jamel Shabazz.
Patrick Rowe on The Bronx Museum's Darkwater Collaboration
Patrick Rowe, Director of Education, discusses The Bronx Museum's Darkwater collaboration with Tim Rollins and K.O.S. who led an experiential workshop with I.S. 218 about W.E.B. Dubois 1920 autobiographical novel.
Nell Klugman on Glenn Ligon's "Runaways"
Olivia Pohl on "The Life and Times of Alvin Baltrop"
Joshua Stein on Emilio Sanchez
In this Staff Story, Bronx Museum Trustee Joshua Stein discusses the work of Cuban-born, New York modernist painter Emilio Sanchez, and his renowned depictions of street scenes in The Bronx.
Teen Council and Teen Summer Stories
Teen Summer 2019 participants conducted a two-part interview series to mark the 50-year anniversary of two cultural groups that emerged in New York City and continue to have lasting impact. 
Interview with Gonzalo Casals
Part one features an interview with Gonzalo Casals, then Executive Director of the Leslie-Lohman Museum. Leslie-Lohman is the only art museum to exhibit and preserve artwork that speaks about the LGBTQIA experience.
Interview with Hiram Maristany and Miguel Luciano
Part two features interviews with Hiram Maristany and Miguel Luciano. Maristany is co-founder and photographer of the Young Lords in New York. Luciano is the creator of Mapping Resistance: The Young Lords in El Barrio, a public art project featuring Maristany's photographs installed in East Harlem neighborhoods where Young Lord actions took place.
Teen Summer and Teen Council: We Are All Agents of Change
Agents of Change: Civic Engagement
Part one, explores what civic engagement looks like in The Bronx and beyond and how youth can get involved! 
Interview with Shellyne Rodriguez
Part two, interview with artist, organizer, and educator Shellyne Rodriguez.
Interview with Joseph Cuillier and Shani Peters of The Black School
Part three, interview with Joseph Cuillier and Shani Peters of The Black School.
Interview with Artist Amy Khoshbin
Part four, interview with Brooklyn-based performance, video, and installation artist Amy Khoshbin
Bobby González and Mahogany L. Browne on Shaun Leonardo: The Breath of Empty Space
Visual Storytelling
See two amazing visual compilations part of Sanford Biggers: Codeswitch exhibition.
Mother Patchwerk
Based on a graphic novel by John Jennings in collaboration with David Brame and Esperanza Bey. Soundtrack by Moon Medicine. Animation by Dan Rowe.
Moon Rising
Directed by Terrance Nance.  Soundtrack by Moon Medicine. 
Support The Bronx Museum by becoming a member
Support us