Art Studio
Make art with us at home! Led by our teaching artists, Art Studio offers an array of engaging video and instructional art lessons for all ages* and abilities with materials that can easily be sourced at home.  Build a sculpture out of found materials, learn how to draw graffiti, make a self-portrait, create blackout poetry, and much more!
For our younger audiences, we recommend family collaboration and cooperation.
Share your work! Send photos to education@bronxmuseum.org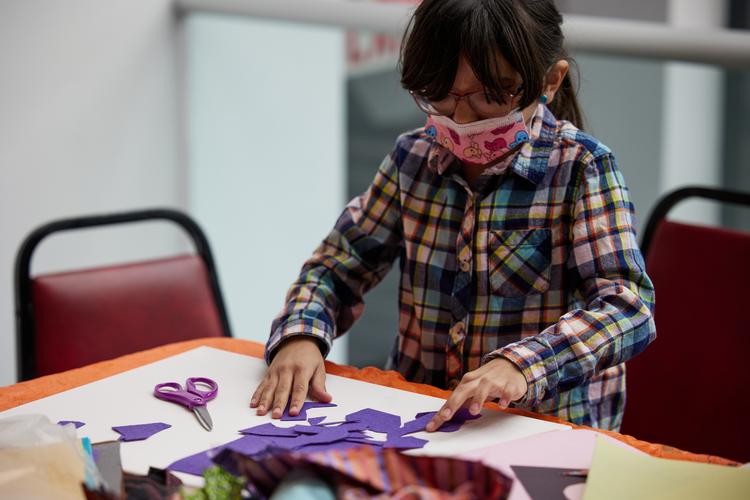 Collage with Joiri Minaya
Artist educator Joiri Minaya shows how to make a collage inspired by the 2020 exhibition Sanford Biggers: Codeswitch.  You can also take a short tour with Minaya of Bigger's exhibition here.
Found Materials with Tony Feher
Alex and Kali show how to make a sculpture using everyday and found materials, inspired by the work of sculpture artist Tony Feher. 
Collage with Jose Parla
Create a collage inspired by the colorful, abstracted work of contemporary painter José Parlá! 
Cross Hatching with Joiri Minaya (Part 1)
Join artist educator Joiri Minaya, as she teaches a two-part series on a drawing technique called cross hatching.  Part one introduces the basic concepts and applications of cross hatching. 
Cross Hatching with Joiri Minaya (Part 2)
In part two of drawing cross hatch, Minaya explores the technique through the work of artist Elizabeth Catlett.  Participants will create a drawing of one of Catlett's sculptures (Elvira, 1997) using the cross hatch technique. 
Paintings Inspired by José Parlá
Create a painting with texture, shape, and color inspired by José Parlá's paintings. 
Messages of Solidarity with Joiri Minaya
Artist educator Joiri Minaya teaches how to use your voice and stand up for issues you believe in, by creating a message of solidarity to display in your window. 
Henry Chalfant-Inspired Graffiti
Create a graffiti word and image inspired by Henry Chalfant, a renowned photographer of urban culture who is known for his work on graffiti, break dancing, and transit art. 
Printmaking and Paper Weaving
Collagraphs with Joiri Minaya
Join artist educator Joiri Minaya and create a collagraph print, which is a collage of mixed materials that are glued onto a printing plate.
Paper Weaving with Joiri Minaya
Educator Joiri Minaya shows you how to make an artwork using paper weaving, an art form drawn from textiles. Take inspiration from the shapes, colors, and patterns of pieces from the museum's past exhibits or from the world around you!   
Support The Bronx Museum by becoming a member
Support us